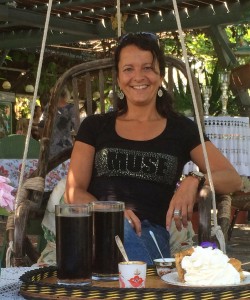 Stella van Houten
I started working at an advertising agency, which I really enjoyed doing for some 12 years. After that I followed a training course for photography and worked as a professional photographer for some 9 years. Meanwhile I began to help my partner in the kitchen showroom, and when he could take it over from his employer I kept working occasionally as a freelance photographer.
In the meantime I started following Reiki training. It became clear that there were many things I could feel and direct with ease. This way I followed the Reiki 1 and Reiki 2 training sessions, with which I treated people for a number of years. Then I got to know about this energy therapy. And it appeared that there is much more that can be treated in a specific manner by means of energy and crystals. I then followed a training course with Mr Vierhout, who has developed this method of treatment. I am continuing my studies to keep "up to date".
I started to treat people at my home. It was not long before the living-room was turned into a waiting room and then I switched to a separate surgery where I treated patients. It became so busy that I could not combine it with my other activities in the kitchen showroom anymore. That is when I decided to start my own business as energy therapist. And so far I have enjoyed every day of it! I love to be able to help people, regardless of their "complaints"… I also keep up my own professional level through self-tuition and by following other training and courses.
More information?
Would you like to know more, just contact me.
Stella van Houten
Tel. +31(0)6-27256402